Leade.rs dévoile son programme officiel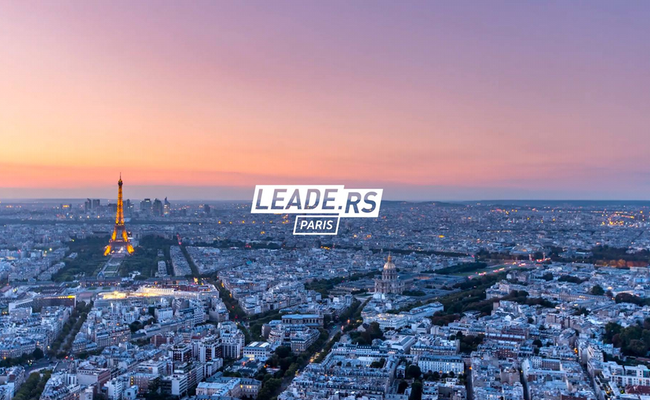 Lors de la première édition de Leade.rs à Paris, Loïc Le Meur avait réunit en 2016 un parterre d'acteurs clefs de la tech, qui avaient présenté leurs idées qui peuvent avoir un impact significatif sur notre société.
«On ne veut pas faire l'événement le plus grand, mais le meilleur, le plus international. Un sommet haut de gamme pour représenter l'industrie, et moins un endroit pour représenter les marques», explique l'entrepreneur.

Cette année encore, Leade.rs aura pour ambition de réunir les acteurs clés de la scène Tech internationale mais aussi et surtout les talents de demain.
Chatbots, réalité virtuelle, e-Santé, Intelligence Artificielle ainsi que toutes les dernières tendances en matière d'innovation seront abordées durant ces 2 jours par les meilleurs speakers.

Découvrez la liste complète des speakers.
Programme du mardi 11 avril:
Horaires
Sessions
Intervenants
08h00
Networking
09h30
Welcome
Loic Le Meur, Founder & CEO, Leade.rs & Yannick Bolloré, Chairman & CEO, Havas
10h00
A better way to build & launch products
Phil Libin, Managing Director, General Catalyst & Co-Founder & Chairman, Evernote
10h20
Digital Transformation Track Intro
Jeremiah Owyang, Founder, Crowd Companies
10h25
Digital Transformation
Alexandre Ricard, Chairman & Chief Executive, Pernod Ricard & Loic Le Meur, Founder & CEO, Leade.rs
10h45
Data Science
DJ Patil, Former U.S. Chief Data Scientist
11h30
Transportation
Shervin Pishevar, Co-Founder, Hyperloop One
11h50
Augmented Reality
Dmitry Shapiro, Founder & CEO, GoMeta (Pokemon Go as a platform)
12h30-14h00
Lunch Break
14h00
Magic Drones
Marco Tempest, Cyber Illusionist, Adventurer, Scientist, Dreamer
14h20
The Flying Camera
Alex Pachikov, Founder & CEO, Sunflower Labs
14h40
Commercial Drones
Henri Seydoux, Founder & CEO, Parrot
15h10
Take a Walk on the Dark Side: Branding for Startups & Sith Lords
Dave McClure, Founder & Troublemaker, 500 Hats
15h20
Social Impact
Leila Janah, Founder & CEO, Samasource & LXMI
15h30
Social Impact
Dara Dotz, Co-Founder & Principal Designer, Field Ready
15h50
Social Impact
Frederic Mazzella, Founder, BlaBlaCar & Loic Le Meur, Founder & CEO, Leade.rs
16h10
Social Impact
Jamie Siminoff, Founder & CEO, Ring
16h30
Hardware Roundtable
Moderated by Mike Butcher, Editor-at-Large, TechCrunch
Barbara Belvisi, Co-founder & Managing Partner, Hardware Club
Vincent Nallatamby, Co-founder & CEO, Tempow
Quentin Sannie, Co-founder & CEO, Devialet
17h00
Photography
Benjamin Von Wong, Photographer
17h10
Fashion
Pamela Golbin, Chief Curator of Costume & Textile, Louvre Palace in the Musée des Arts Décoratifs
17h30
Pop Up Retail
Ross Bailey, CEO, AppearHere
17h50
Closing Remarks
Loic Le Meur, Founder & CEO, Leade.rs
Programme du mercredi 12 avril:
Horaires
Sessions
Intervenants
08h00
Registration, Coffee & Networking
09h30
Welcome
Loic Le Meur, Founder & CEO, Leade.rs
09h40
The Future of Investing
Jeff Clavier, Managing Partner, SoftTech Ventures
10h00
Investor Town Hall
Gil Penchina, Startup Investor, Geraldine Le Meur, Co-founder, Refiners
10h30
Future of Dating
Didier Rappaport, Co-Founder & CEO, Happn
11h00
Coffee Break
11h30
Digital Health
Riccardo Sabatini, Scientist & Entrepreneur
11h50
Digital Health
Daniel Kraft, Medicine & Neuroscience Chair, Singularity University
12h10
Digital Health
Sam de Brouwer, Co-founder, Doc.ai
12h30
Digital Health
Tammy Sun, Founder, Carrot
12h40
Lunch
14h00
Art & Technology
Elisabeth Mouchy, Co-founder Daylighted & Geraldine Le Meur, Co-founder, The Refiners
14h20
Going Viral
Karen X. Cheng, Creative Director, Karen X
14h30
Virtual Reality
Timoni West, Principal Designer, Unity Labs & Helen Situ, Editor, Virtual Reality Pop
14h55
Augmented Intelligence
Walter De Brouwer, Founder & CEO, doc.ai
16h15
Entrepreneurship
Kristel Kruustük, Testlio
16h25
Bots
Eugenia Kuyda, Founder, Luka & Matt Schlicht, CEO, Octane AI
16h50
Mindfulness
Tim Chang, Managing Director, Mayfield Fund
Parneet Pal, Chief Science Officer, Wisdom Labs
17h30
Mixed Reality
Robert Scoble, Entrepreneur in Residence, Upload VR
17h50
Closing Remarks
Loic Le Meur, Founder & CEO, Leade.rs
Profitez actuellement de l'offre Startup à 300€ au lieu de 500€.
| | | | |
| --- | --- | --- | --- |
| | | | |
| 11-12 avril | Paris | 300-500€ | Pour en savoir plus |
Découvrez ce que vous réserve l'édition 2017: